Mural Pricing
Mural cost varies, but a general rule of thumb is $10-$50  per sq ft. Most projects are under $20 per square foot. Larger projects can incur equipment rental fees that greatly impact the cost.
Factors that determine cost:
Overall Size of the project area.
The complexity of the art to be created.
Accessibility (Do we need lifts, ladders, or scaffolding?)
Equipment required.
Materials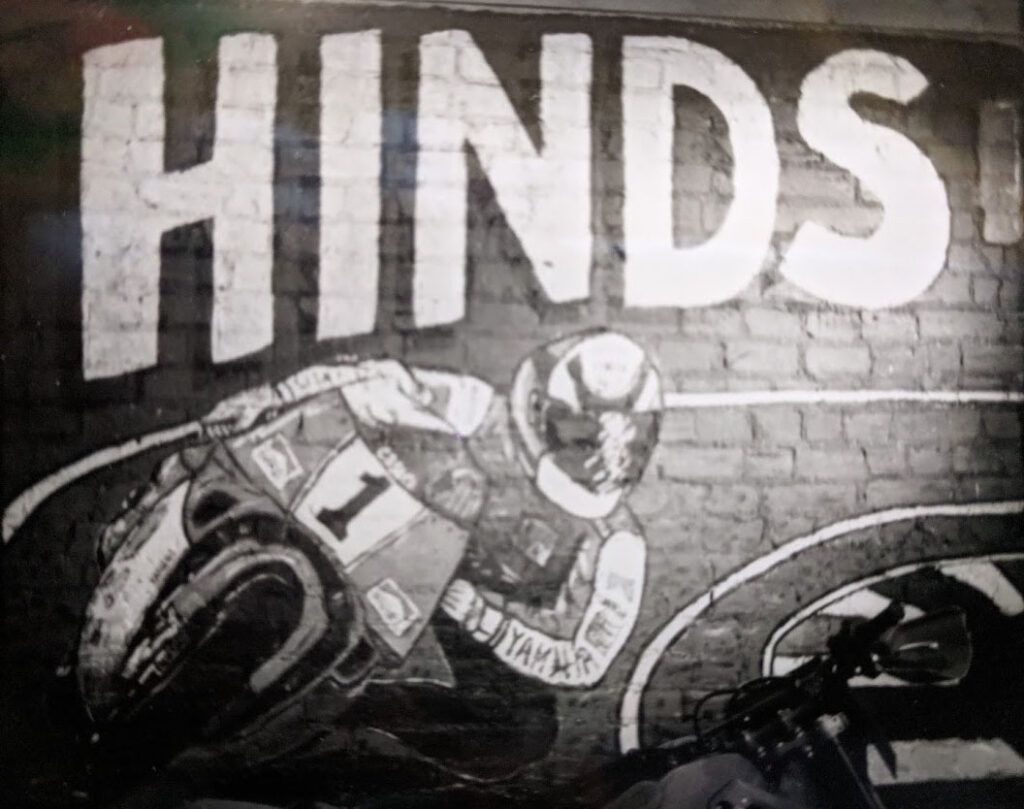 Small Murals and Window Paintings Cost
Even a small project will take a day to complete. The most minimum job requires:
Create a basic design sketch.
Gather all supplies and deliver to location.
Apply the design guide marks (chalk or dry erase)
Paint the mural.
Clean up and remove all materials.
Our minimum fee for any onsite project is $400. This would cover a basic store window or wall of 4 x 8 feet. (32 square feet x $12.50 = $400) This is just an example, and all projects are unique.
For larger projects, we will work up comps and develop the artwork and get it finalized before the painting begins. It takes three to four hours or more to create a complete proposal with design comps. We charge a small retainer fee to put this together.
A proposal will provide a break down of materials, equipment rental, scaffolding (if needed), paint, sealer, labor, etc.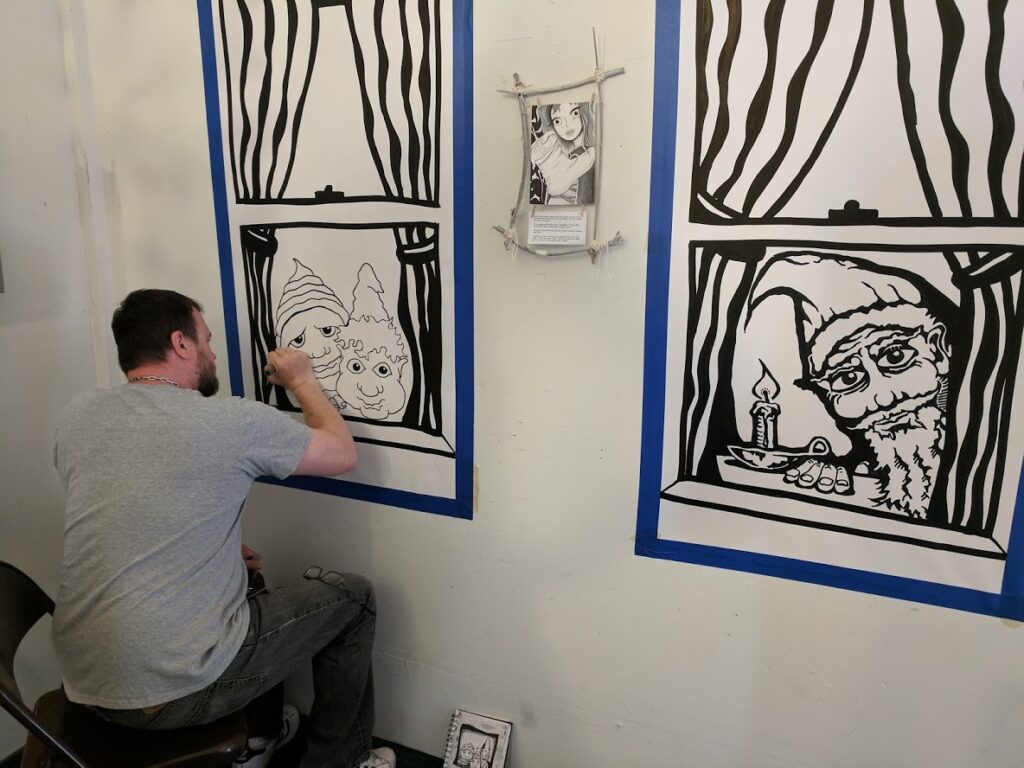 Paint and Materials
For windows we apply standard artists acrylic paints. These are water based paints that are easy to apply and remove. The paint actually comes off quite easily, outside painted windows can be easily scratched. If there is a lot of foot traffic it may be better to paint the inside of the windows.
For murals we use standard acrylic latex house paint. A quart of one color cost about $38 and will cover about 200 square feet ( cans claim the cover 400 sq ft but they are wrong ). A gallon of paint runs about $70 per color. These costs can add up quickly.
Outdoor paintings will also need a sealer to add UV protection and make the art last longer. A few coats of good waterproof sealer or polyurethane work great.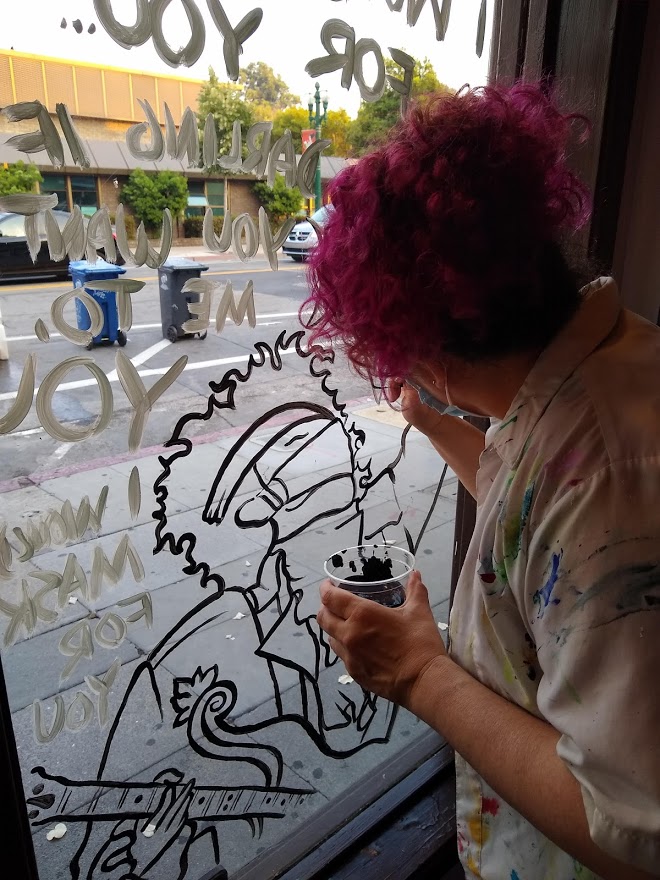 Preparation
The surface should be ready for paint to be applied.
Windows must be clean (this means they were properly cleaned with glass cleaner within 24 hours). Dirty windows can not be painted!
Outdoor walls should be clean, ideally cleaned with a pressure washer, but at minimum, there should be no visible dirt or grime.
Indoor walls should be thoroughly cleaned and all nails, staples, tape, removed.
Any holes should be patched and dry at least 48 hours before painting begins.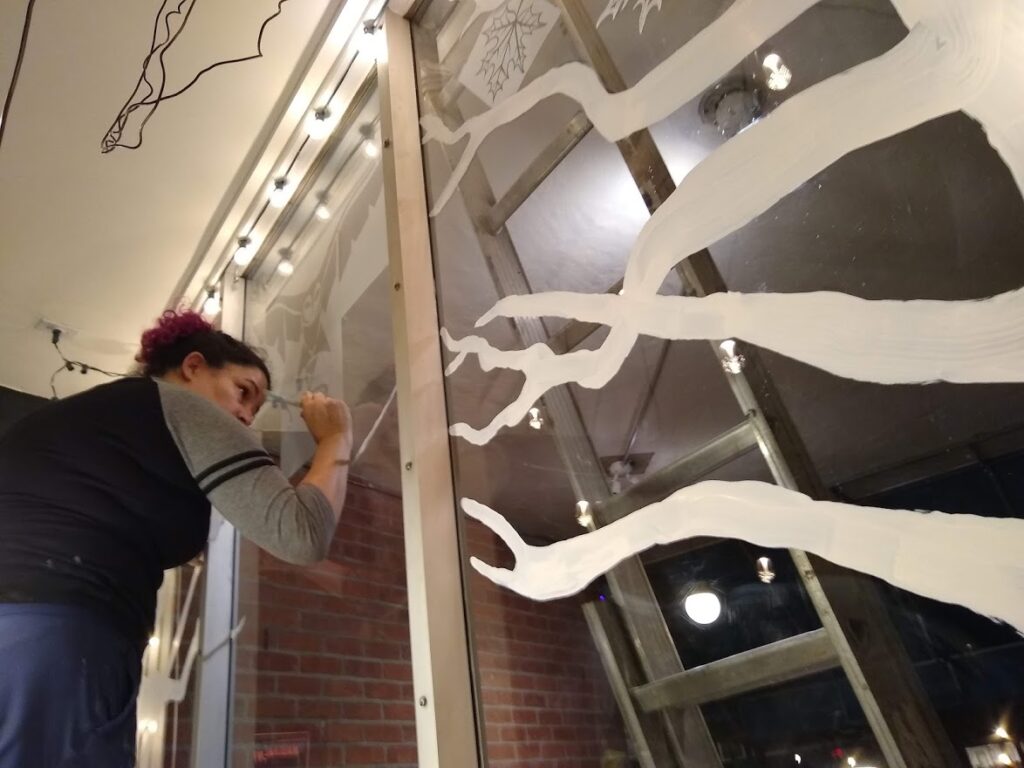 Removing Acrylic Paint from Windows
Removing paint from windows is easy with a standard razor scraper.
Wet the window surface with water or glass cleaner. Scrape the paint off, then wipe them down with glass cleaner.
There are several videos showing different techniques on YouTube.